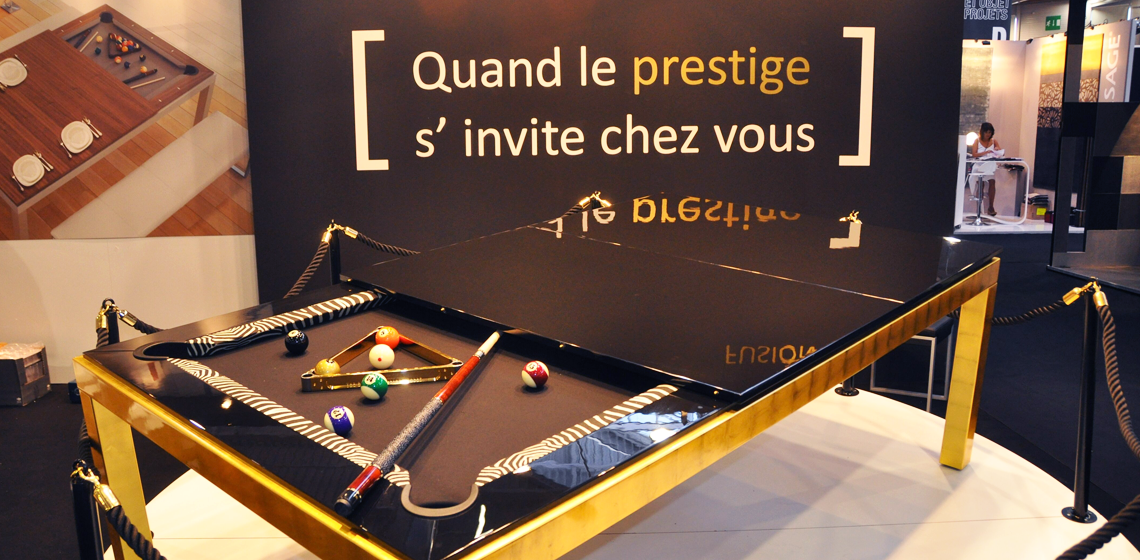 FUSION GOLD LUXURY FOR MAISON ET OBJET PARIS
Fusiontables is very happy to announce the Fusion Gold luxury edition concept launch. 
The Fusion GOLD version is a very limited edition of the now famous Fusiontable concept of contemporary dining pool table.
It offers a unique finish because it is covered with carefully 400 placed 22.5-carats golden leaves.
Thanks to the expertise of the Ateliers GOHARD - Paris, one feature is immediately obvious: a work of love and patience by experienced craftsmen is visible in the Fusion GOLD.
Thanks to its very modern, high end but also deliciously extravagant design nobody will miss it. 
This luxury range was featured this week on the Maison et Objet Paris trade show on the Fusiontables booth. 
For this limited version, it is entirely possible to customize the tops (black or white coating, or tailored to the customer's wishes) and the cloth (large selection of colours available) finishings with/without logo or patterns, etc…
Everything is possible for a FusionGold owner!
www.ateliers-gohard.com